業界活用事例
---
Improve the feature of cutting tools dramatically
---
Since the target materials (sapphire,SiC) are getting harder, the conventional electrodeposition tools won't be able to process it, therefore it has become necessary to apply UDC's special coat to improve the tools' functionality.

Also, processing condition is getting harder every day and fortunately, only UDC can provide the processing of automobile fuel injection system's blind hole without damaging configuration.

In addition, UDC increases the holding power of diamonds while decreasing the loss of abrasive grain to practically zero, producing a semipermanent status in drilling tools.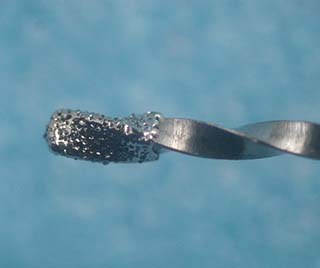 ---