New Topics
Coming to U.S.A.!
Exhibiting medical instruments with the strongest functional coating technology including a micro needle holder that won't slip even with oil.
---
Exhibition at Pacific Design & Manufacturing 2015
---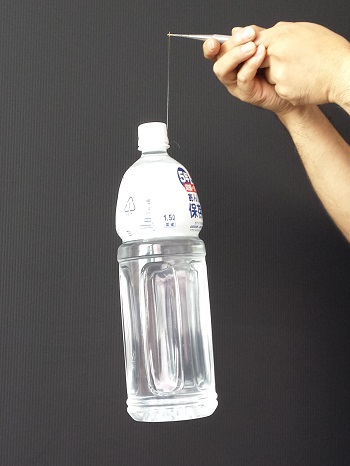 Just Co., Ltd. will display the medical instruments including a micro needle holder with diamond coating, drills with diamond coating and more at PD&M 2015 which offers medical technologies.
Our company has been providing many OEM products to the medical industry in Japan for decades, and we are looking for business partners to expand our OEM business in the United States.
Please stop by our booth and we will be happy to meet with you.
Introducing Just Co., Ltd.
We have devoted ourselves to satisfy our customers by providing their plating needs with a long-established tradition and achievements for more than a half century since our company was established.
Please check the video to see the business contents and the production sites.
For advanced appointments for business meetings
---
Exhibition at Pacific Design & Manufacturing 2015
---
Date
02/10/2015-02/12/2015
City
Anaheim, CA/USA
Site
Anaheim Convention Center
Exhibits
Medical supply, equipment, packing technology, clean room, service label machine,
testing technology, sterilization, manufacturing equipment, and consulting service
Business Category
Medical・health care/medical, hospital equipment, and medical technologies
Medical・health care/medicine, pharmaceutical drugs and productions, and pharmaceutics
Booth No.
Anaheim Hall-C 3291
Image of Showcase Expo
We will set a booth for hands-on access to our plating technology by pulling papers with our tweezers.
We hope that you can experience the difference in gripping power.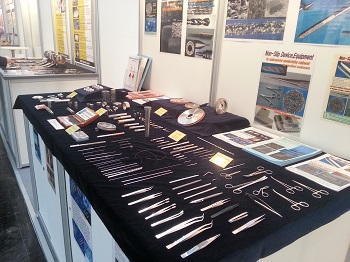 showcase product①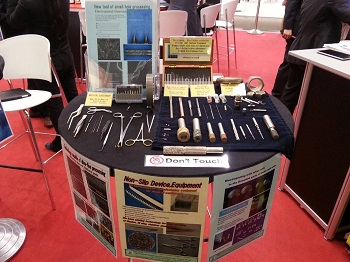 showcase product②
For advanced appointments for business meetings
---